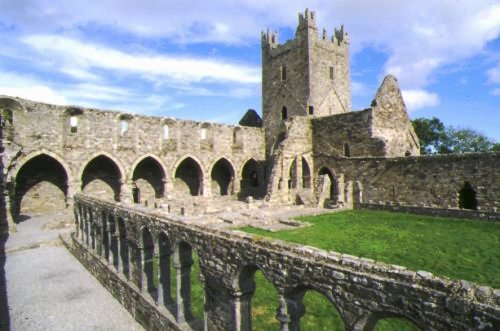 The 'advantage' of being in the middle of coming down with a cold is that it means that one can not in good conscience do any pastoral visiting, lest one 'share' the unwelcome condition with the visited! And the dull, throbbing head makes study or paperwork not very attractive either. As this morning was sunny I had the choice of feeling sorry for myself and lying in my bed, or doing something a bit more productive and visiting Jerpoint Abbey which is only about 40 minutes from my door.
I'm thinking of trying to organise some trips for the parish school to some local ecclesiastical sites, so this would be by way of
reconnaissance.
I chose the latter!
What a beautiful place - it was lovely to stand in the well preserved chancel and sanctuary (which has the original altar stone in place) & stroll through the ruined cloister, imagining I was joining the tonsured monks from 700 years ago at their prayers. I always find it uplifting to get in touch with our religious heritage. And fair play to the OPW (Office of Public Works). They have always done a lovely job of restoring and conserving any of the sites in their charge that I have visited.
After a brief visit there, we thought we'd get a 'cuppa' & a scone at the nearby Jerpoint Park's cafe. There was no answer at the door & no sign of life within, so we decided to try Thomastown on the way back home. A man with a wheelbarrow waved us down as we were leaving & said the cafe was open & the lady must not have heard us & we should try again. But do you know the way sometimes when you have started to move on & have already shaken the dust from your feet & are reluctant to turn back? We thanked him & told him that we didn't live far away & would be back again soon & carried on.
In Thomastown we fancied trying the Watergarden, a cafe attached to a non-residential facility for adults with special needs, which has a good reputation. Alas, they were closed on Mondays! Time was starting to press on & we were very tempted to just get back in the car. But we decided to have a very quick wander for an alternative venue & if we didn't get lucky fast give up & go home. We spotted a place called 'The Truffle Fairy' just round the corner, a real artisan chocolatier that also has a small cafe area with a few seats inside, including a chaise lounge on which this weary traveler (who was really starting to feel he had overdone things at this point) gladly plonked himself! .
The chalk board outside had mentioned, inter alia, 'Aztec Hot Chocolate.' That sounded intriguing, so I went for that, with a generously sized brownie that was just lovely. The Aztec brew was just what the doctor ordered - so thick it was like a chocolate soup, and spiced with chilli that really warmed me up & temporarily dispatched all cold-like symptoms!
Before leaving I asked how to make it. It's really simple: heat some milk (soy will do if you are vegan; water too but it doesn't work as well) but don't let it boil; stir in about three tablespoons of 70% dark chocolate drops (I bought a pack of them there, but I imagine that if one were to grate a chocolate bar it would do); add chili powder to taste - mild, hot, or take your head off!
All in all, much better than spending the morning in bed!