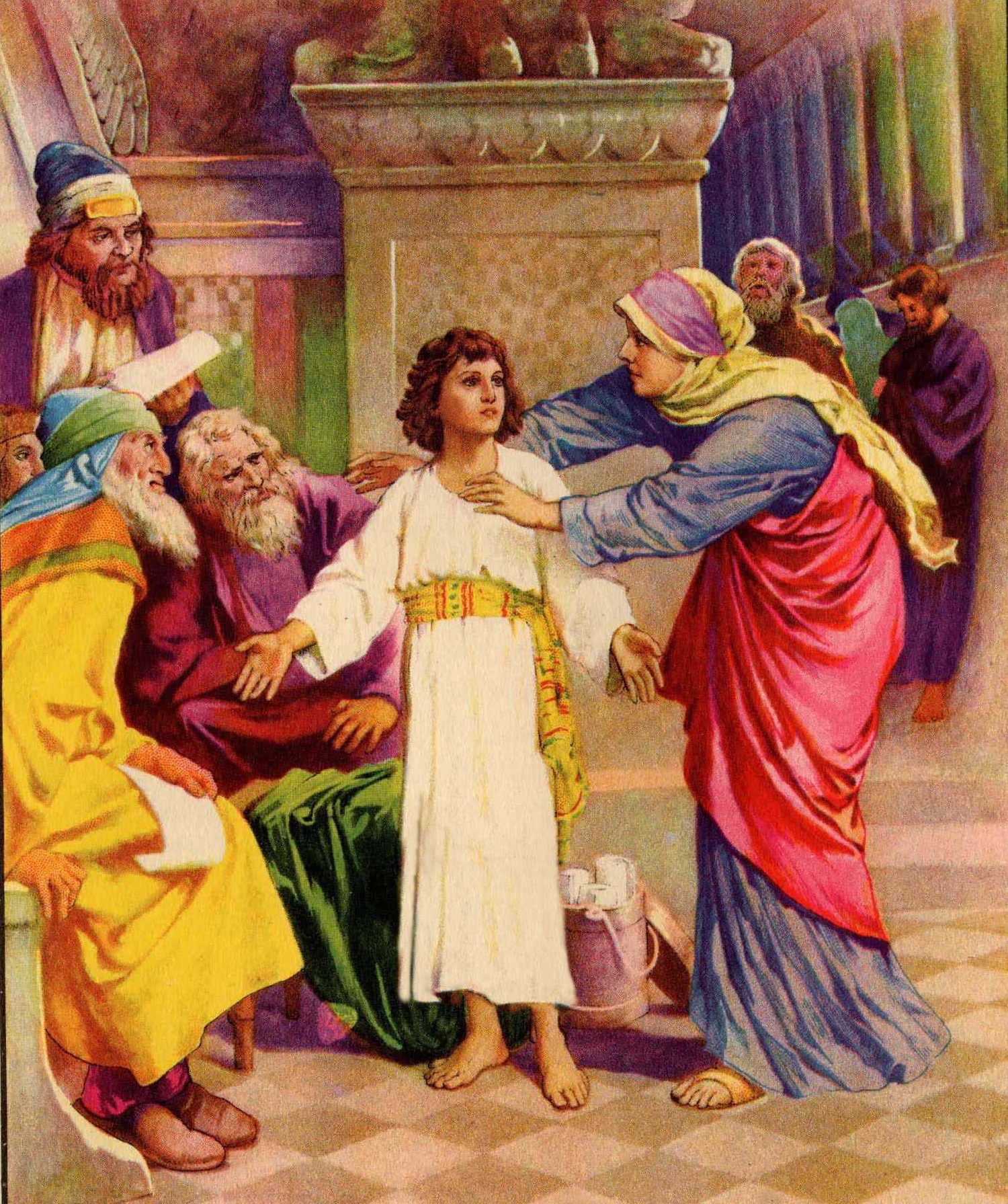 May my words be in the name of the Holy & Undivided Trinity: Father, Son, & Holy Spirit. Amen.

The material we are presented with this Sunday in our Gospel reading is unique for a couple of reasons. It is unique because the story it tells is to be found only in St Luke. That in itself is not all that unusual. There are many scenes to be found in Luke that are only found in his Gospel – think of the Visitation to the Blessed Virgin by the Archangel Gabriel, the Visitation of our Lady to her cousin Elizabeth, all the material relating to the birth of St John the Baptist … these, and other things are only to be found in Luke … just as the other Gospels have things that are only to be found in them … but today's passage is special for another reason … for it, of all the Gospels, gives us information dealing with the 'between time' of our Lord's life, the time between birth and baptism and the beginning of his ministry … the time often referred to as the 'hidden years' …

Brief though the story is, it gives us an important insight into the life of our Saviour. Hearing about how he traveled to Jerusalem for the religious festival with a group of family and friends & how he later returned home with his parents and was obedient to them indicate that the life he led would have been fairly typical of someone of his social class living at that time in that place.

It's important information, both because it gives us a sense of how normal his life was, to outside eyes at least … normal enough that when he went back later to preach and teach in Nazareth, those who had known him all his life were astonished at his knowledge … and offended that someone as 'ordinary' as him should suddenly be someone so extra-ordinary … and important also because it supplies a context to his life … the more we learn about life in the Israel of his time, the more it helps us gain insight into his life, and better understand his teaching …

But we should not let the apparent ordinariness trick us in to assuming that Jesus was ordinary. Some for example fall into that trap and say: O Look, the boy Jesus ran off from his parents. That's wrong isn't it to worry them like that? That means he sinned, doesn't it?' And they think they are being very clever. They forget some very important points. The first is that we are assured in scripture that Jesus was like us in all respects save in sin alone. Therefore we have the assurance of scripture that Jesus never sinned. Also, we know from a theological perspective that for Jesus to sin was impossible – after all, sin by definition is to offend against God … how could Jesus, who is God, offend against himself? The answer is, of course, that he could not.

And of course, St Luke in giving us this passage did not intend to present us with cause to think that the sinless One sinned. Rather, he wanted to show us that despite the apparent ordinariness of the life of the Christ the boy, there was always a foreshadowing of what awaited Christ the man ... and to underscore the fact that it will cause sorrow and grief to those who love him when he carries out the will of his Father to the point of obedience of death on a cross.
Think of the time of year that this is taking place. It is during the Passover, the same season when Jesus will suffer and die. And think also how long it took to find him … three days, the same time he will spend in the tomb … and his response when found is to say 'did you not know that I must be in my Father's house?' He must be there … he is obeying the will of the Father in what he does … just as he obeyed the will of the Father when he accepted the cup of suffering and death during his agony in the Garden of Gethsemane....

Our Lady, you will recall, treasured the incident in her heart … it was, like the words of the shepherd at his birth, or the prophecy of Simeon at the Presentation in the temple that a sword would pierce her heart, one of those things that she would ponder during the hidden years of her Son. It was a reminder to her that her Son was no ordinary man … and that her willing acceptance to do what God wanted her to do would cause her much sorrow …

Because as well as both pointing to the outside normality of his life during the hidden years and reminding us that the shadow of the cross hung over all his life, the passage also serves to show us something else … for all the apparent ordinariness of his life, it was also far from ordinary. Jesus was the Son of God and he knew it … even then he had an understanding that his life was to do the work his Father in heaven has sent him to do … those thirty years of our Lord's life about which we know so little, must have been an extraordinary experience …
What must it have been like for him to lead a life no different to those around him, playing and going to school just like an other boy while he was a child, later training as a carpenter and working with his father Joseph, following all the social and religious customs of his time and place … while at the same time knowing that he was the Son of God, sent into the world on a mission of cosmos changing proportions … and yet hold his fire for thirty years … it indicates to me at least that the humility of God in Christ knew no bounds … for God to become man is one thing … but for God to live a life of total obscurity in a backwater of the Roman Empire for 30 years is humble beyond imagining! And it demonstrates how incomprehensible is the love that God has for his creation, for all of us his children, that he would do such a thing …

I began by saying that this passage from Luke is unique because it is only found in Luke and is the only one dealing with his hidden years … perhaps I would have been better to say that it uniquely demonstrates the all consuming love that God has for us … such love, that our response to it should be to have our hearts filled with joy and dedicate ourselves anew each day to asking God to fill us with his grace so that we might daily live lives that were more and more Christ-like … lives that are happy to humbly serve him every day and do his will in every way … it is something I pray for you, myself, and all God's children. Amen
Sermon notes for Christmas 1